Coming Soon
HATH NO FURY, an anthology of stories about strong women from Ragnarok Publishing, who did the most excellent Blackguards anthology in 2015. This has been a very successful Kickstarter and should be published somewhere in Spring 2017. My story is called, The Book of Rowe, and involves Saverian, a very smart, powerful, and quirky woman with a big chip on her shoulder. (Hint: she figures prominently in Breath and Bone.) Watch here for more news about this and other projects. (And yes, I am working on something bigger than shorts.)
---
Find me on Twitter @cbergwriter
---
On the shelves
Ash and Silver is now available in print, e-book, and audio editions.
You can find it at independent bookstores, Amazon, Barnes and Noble, or other brick and mortar and online booksellers.
And of course, your friendly neighborhood bookstore should have copies, too. Reviews are coming in and some very nice ones, too. And it's very cool that it has made two hot lists: Amazon's Best New Fantasy/SF for the month of December and the Bookworm Blues Best Fantasy of 2015 (even though the reviewer hadn't finished it yet!) One of the best reviews so far? Check out Gallywampus.com. Who wouldn't love that headline?
And yes, reader reviews are important, too. An honest review on Amazon or B&N or Goodreads helps spread the word.
Want some insight into a core idea of Ash and Silver? My Big Idea essay on John Scalzi's Whatever blog talks about fantasy tropes and the roots of identity.
Curious about the writing of Ash and Silver or about writing in general? About the writing life? You can still access my Ask Me Anything interview at Reddit Fantasy (a very well behaved community). Comments are now closed, but it was a fun time.
If you are hungry for a tidbit, I've put up an short excerpt from the new book. For those of you who have read the Lighthouse Duet, you might recognize the two people Lucian has encountered on his search for answers.
I've also put up a new People, Places, and Pronunciation Guide for the Sanctuary novels. No, it doesn't reveal secrets, but it might help refresh your memory about Dust and Light or provide a hint of how I hear the names and places in my head.
Then check out the bottom of this page to see how you can win an copy of Ash and Silver!
The Sanctuary Duet has been a long journey, taking me to places I was totally not expecting. Lucian was so sheltered, so convinced of his place in the universe. It took some doing to dislodge his preconceptions. I hope readers enjoy his path through magic and history as much as I did.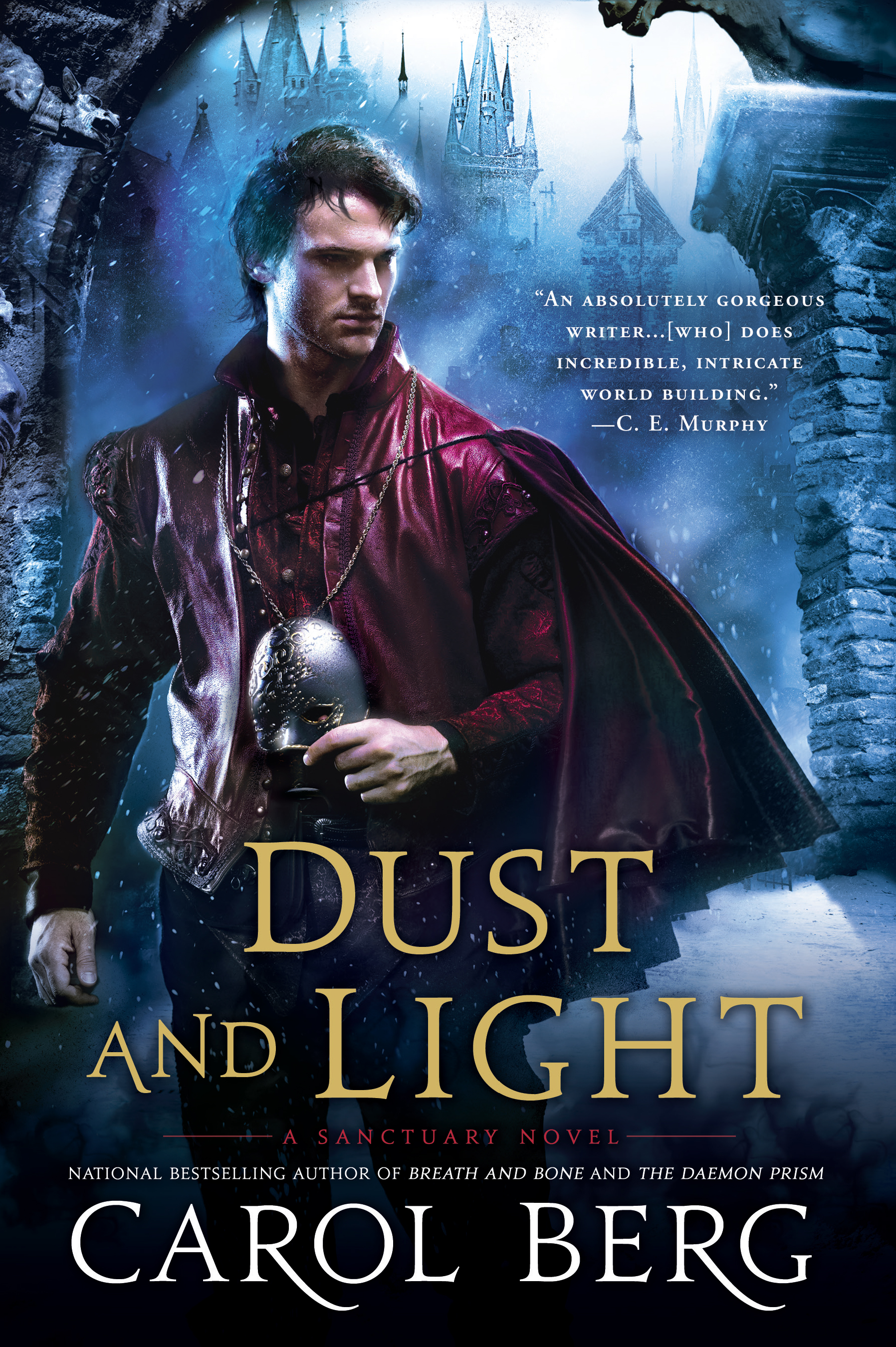 Now's the Time! If you've been waiting to read Dust and Light until the end of the tale is near at hand, now would be the time to dive in. If you need a boost, you can check out the Dust and Light opening chapter right here. And then imagine how the genteel aristocrat portrayed on the D&L cover might become the more...ahem...rugged fellow on the cover of Ash and Silver. That's what I did...
I am so delighted by the cover art for this series, I just can't express it. Gene Mollica did a smashing job with my description for Ash and Silver. Seems like I said something about badass... (And here's a larger view.) Lucian, as portrayed on the both covers, is actually very like my imagining.
---
2016 Appearances

Check out my appearances page for 2016 events. I'll add more throughout the year. I'm hoping to make it to Westercon in Portland Oregon this summer.
---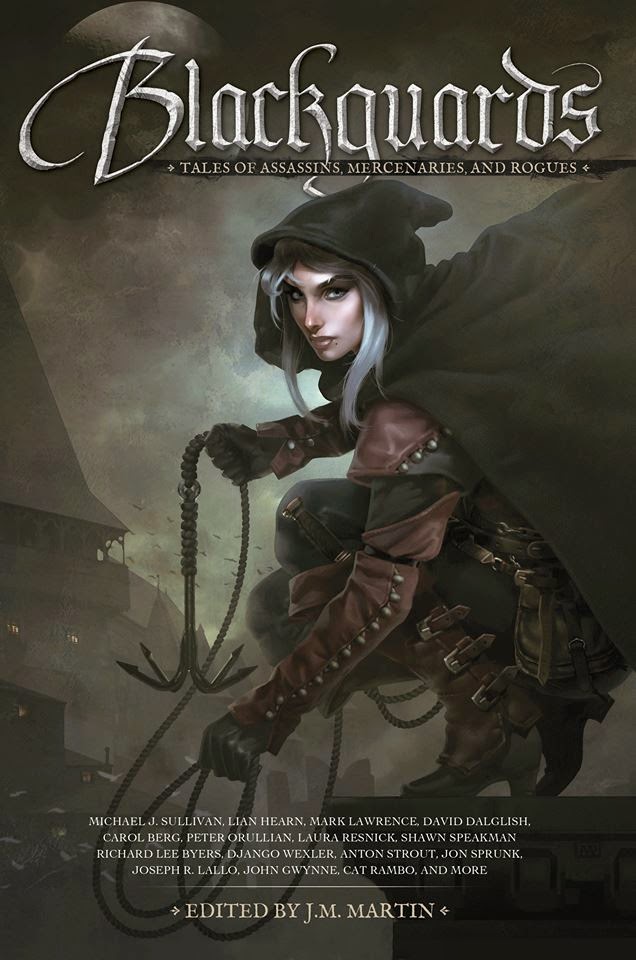 Blackguards! The Blackguards anthology from Ragnarok Publications is available. My story, Seeds, tells of a meeting between a twenty-year-old runaway sorcerer who has been serving in King Eodward's legion (sound familiar, anyone?) who has an unfortunate run-in with a certain lawman who is trying to get a job as the Coroner of the Twelve Districts of Palinur. Here's the opening snip:
If any hierarch, priestess, monk, or practor were to ask me where I choose to worship my gods, I would have to say a friendly sop-house. I take no preference among the Elder Gods, the Karish upstart Iero, or anyone else's divinity, offering libations, prayers, and oaths equally to them all as the occasion demands. But in all this wretched world there's naught to compare with a fine bath, a barrel of mead, and a merry melee of pipes, dancing, and new friends to put me in mind of the sacred.
I hope it's as fun to read as it was to write. If you didn't back the Kickstarter, you can pick up the anthology from Ragnarok or Amazon.
---
Stay in Touch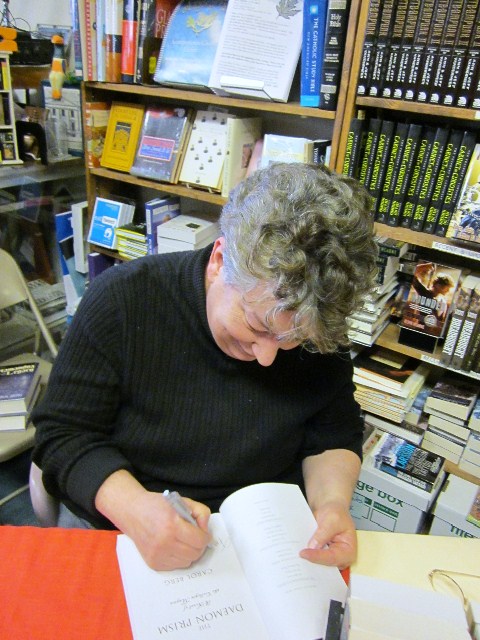 A newsletter is coming at last. Sign up below! Until then, you can generally find me on Facebook. Drop in and say hello and keep current on books and news!
And we have a winner:
Thanks to all who entered the ARC drawing. Danny, the winner,is a PhD student in Quantitative Methodology at the University of Texas, and says
I've been reading your books since Transformation came out way back when I was in high school
I hate hearing that...