Short Subjects
It's been a quiet year publishing-wise, but I've had two stories released in excellent anthologies. The Heart's Coda, the long-promised novelette sequel to my award-winning novel Song of the Beast was published in the anthology Lace and Blade 4 (Amazon, Indiebound).
The The Heart's Coda takes place three years after the climactic events of Song of the Beast. A naive young Elhim ventures into the wildlands of the west in search of a legend. No one has seen or heard from the Dragonsinger, Aidan McAllister since the early days of his self-imposed exile. But the kingdom of Elyria is facing an invasion and someone thinks Aidan needs to know. Assuming he is still alive.
---
And yes, the long-delayed anthology Hath No Fury, is available at last. If you supported the Kickstarter, you should have received - or will soon be receiving - your backer copies. I have been assured that they are going out in waves - a residual of the awful financial situation Outland Entertainment found when they took over Ragnarok Publishing in 2017. Let's hope all this will be over and done wiht soon and readers can appreciate a gret anthology of stories about strong and, um, determined women.
My story in Hath No Fury is called The Book of Rowe. It involves Saverian, a very smart, powerful, and quirky young sorceress with a big chip on her shoulder, who really does not like being underestimated, especially by the men in her life. (Hint: Saverian figures prominently in Breath and Bone.) Among the many authors with stories in this collection are Seanan McGuire, Bradley Beaulieu, Gail Z. Martin, Nisi Shawl. ( Amazon)
Here's a current list of my short fiction.
---
Find Carol on Twitter @cbergwriter
Find Carol on Facebook <www.facebook.com/carolberg>
---
---
Stay in Touch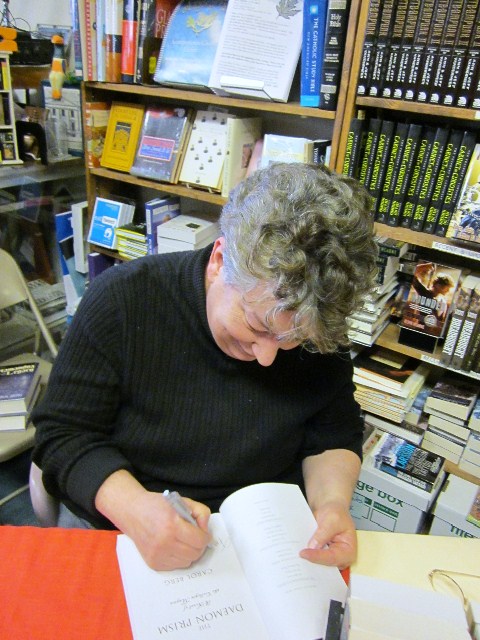 Another newsletter will be coming soon. Sign up below! Until then, you can generally find Carol on Facebook. Drop in and say hello and keep current on books and news!
---
In conformance with new internet data privacy law in the European Union, Canada, and certain states, note the new Privacy Policy for this site.