Coming December 2017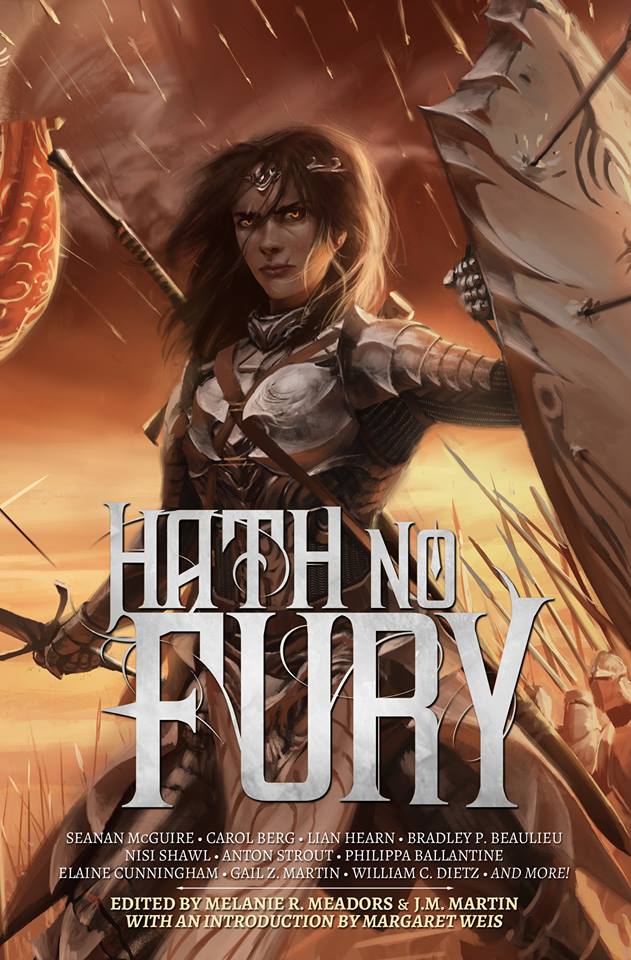 The Book of Rowe, a story in HATH NO FURY, an anthology of stories about strong women from Ragnarok Publishing, who did the most excellent Blackguards anthology. The Book of Rowe involves Saverian, a very smart, powerful, and quirky young sorceress with a big chip on her shoulder, who really does not like being underestimated. (Hint: Saverian figures prominently in Breath and Bone.) Among the many authors with stories in this collection are Seanan McGuire, Bradley Beaulieu, Gail Z. Martin, Nisi Shawl.
---
Coming February 2018
The Heart's Coda, Carol's long-promised novelette sequel to Song of the Beast. Three years after the end of the dragon wars that have devastated the world for centuries, a naive young diplomatic messenger seeks out the hero of that conflict. Aidan McAllister, the broken musician who once sang visions, has not been seen since he vanished into the wilderness with his maddened, volatile beasts. The Heart's Coda will appear in LACE AND BLADE 4 from the publishing arm of the Marion Zimmer Bradley Trust.

Here's the LACE AND BLADE Table of Contents:
"At the Sign of the Crow and Quill," by Marie Brennan
"On the Peacock Path," by Judith Tarr
"Sunset Games," by Robin Wayne Bailey
"Sorcery of the Heart," by Lawrence Watt-Evans
"The Butcher's Boy and the Piri Folk," by Pat MacEwen
"Gifts Tell Truth," by Heather Rose Jones
"A Sword for Liberty," by Diana L. Paxson
"Hearts of Broken Glass," by Rosemary Edghill
"The Game of Lions," by Marella Sands
"The Sharpest Cut," by Doranna Durgin
"Pawn's Queen," by India Edghill
"The Heart's Coda," by Carol Berg
"The Wind's Kiss," by Dave Smeds
A terrific lineup!
---
Find Carol on Twitter @cbergwriter
Find Carol on Facebook <www.facebook.com/carolberg>
---
On the shelves
Ash and Silver is now available in print, e-book, and audio editions.
You can find it at independent bookstores, Amazon, Barnes and Noble, or other brick and mortar and online booksellers.
Want some insight into a core idea of Ash and Silver? Carol's Big Idea essay on John Scalzi's Whatever blog talks about fantasy tropes and the roots of identity.
If you are hungry for a tidbit, read an short excerpt. For those of you who have read the Lighthouse Duet, you might recognize the two people Lucian has encountered on his search for answers.
Find the People, Places, and Pronunciation Guide for the Sanctuary novels.
Carol says: The Sanctuary Duet has been a long journey, taking me to places I was totally not expecting. Lucian was so sheltered, so convinced of his place in the universe. It took some doing to dislodge his preconceptions. I hope readers enjoy his path through magic and history as much as I did.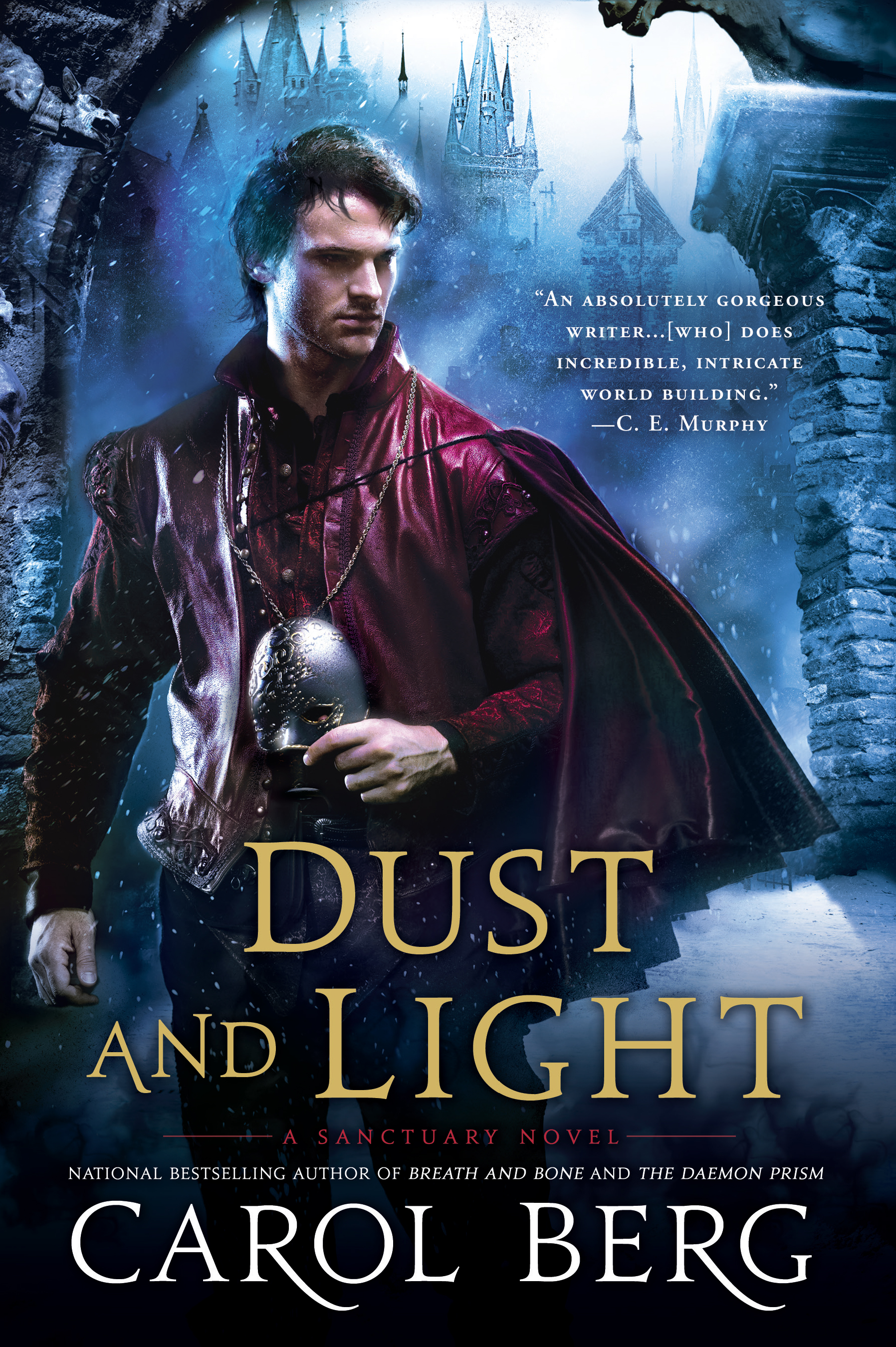 Now's the Time! If you've been waiting to read Dust and Light until the end of the tale is in hand, now's the time to dive in. Check out the Dust and Light opening chapter. And then imagine how the genteel aristocrat portrayed on the D&L cover might become the more...ahem...rugged fellow on the cover of Ash and Silver. That's what the author did...
Gene Mollica did a smashing job with the cover for Ash and Silver. Carol said something about badass... (And here's a larger view.) Lucian, as portrayed on the both covers, is actually very like her imagining.
---
Check out Carol's appearances page for 2017-18 events.
---
Stay in Touch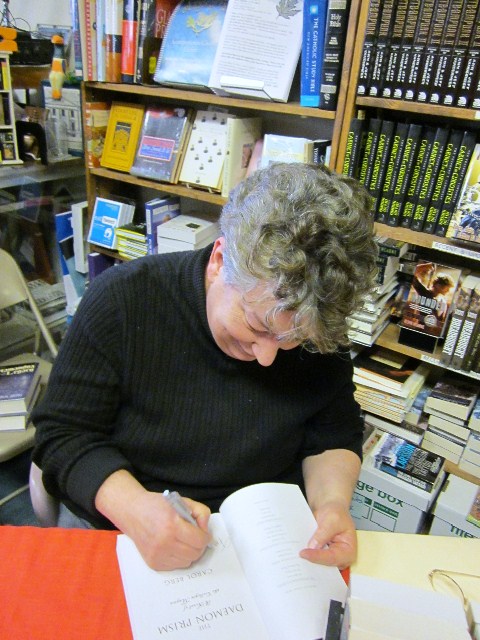 A newsletter is coming at last. Sign up below! Until then, you can generally find Carol on Facebook. Drop in and say hello and keep current on books and news!
And we have a winner:
Thanks to all who entered the ARC drawing. Danny, the winner,is a PhD student in Quantitative Methodology at the University of Texas, and says
I've been reading your books since Transformation came out way back when I was in high school
Authors hate hearing that...